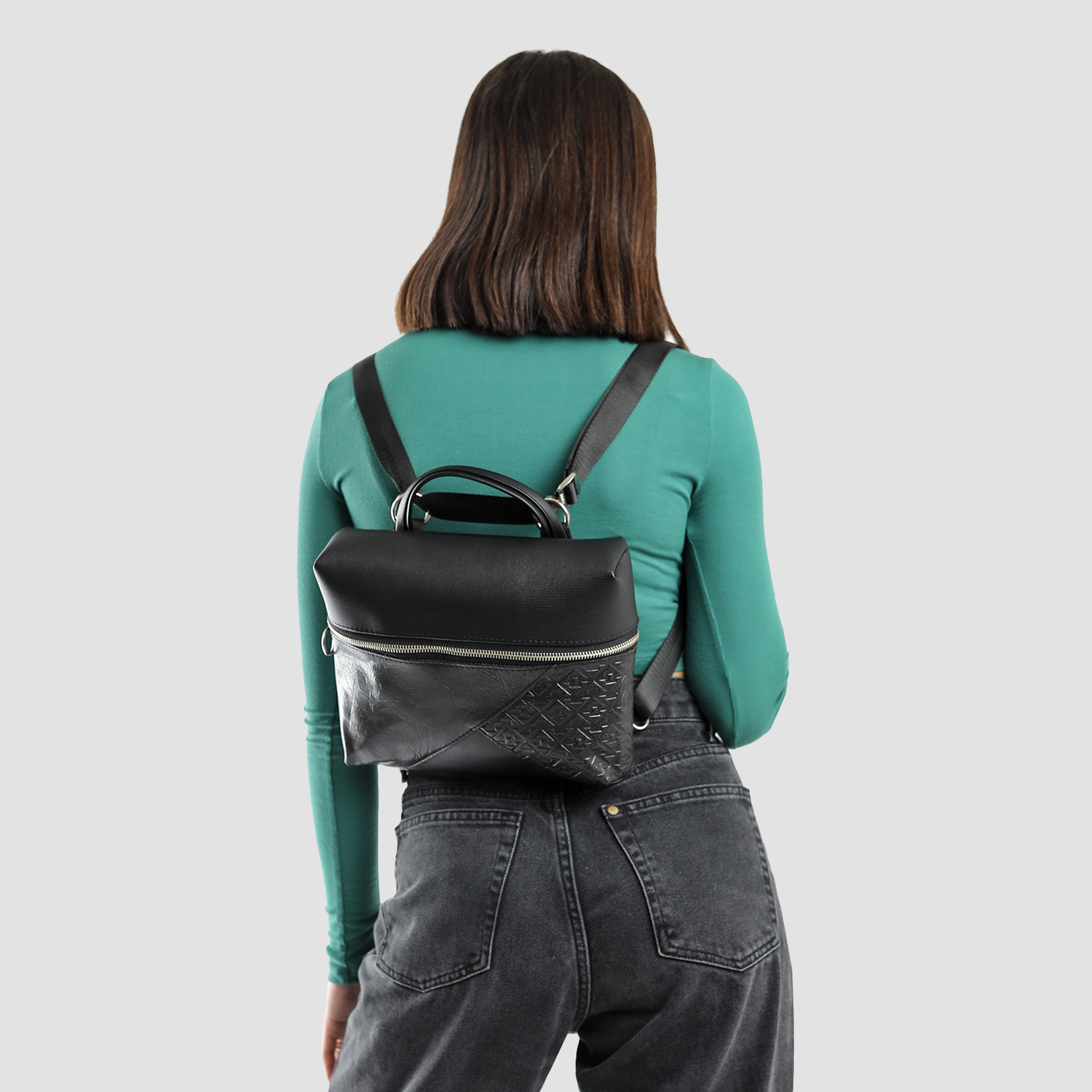 ZENDIGI Totem Grande
Item is in stock
Hurry! Low inventory
Item is out of stock
Item is unavailable
גרנדה הוא תיק גב קטן שמצליח להכיל כל מה שאת צריכה ליום של סיבובים – מהסידורים בבוקר ועד היציאה בערב. ניתן ללבישה כתיק גב, תיק קרוס-באדי וכתיק יד.
מעוצב ומיוצר בתל אביב, בעבודת יד ומחומרים טבעוניים.
טבעוני | עבודת יד | רוחב 29 ס"מ, גובה 25 ס"מ, עומק 5 ס"מ 

Grande has 3 compartments, a large one, a small pocket inside and our signature back
pocket.
Grande is your all day, everyday bag – perfect for a day that starts with making errands and ends on a date with your bestie at your favorite coffee shop.
The bag has adjustable strap that allows you the best of all worlds – you can wear it as a backpack, as a cross-body bag, or just carry it in your hand from the handle, to complete an elegant look with a tiny street twist.
Vegan | Hand-Made | W25cm, L21 cm, Depth 5 cm | The inner-pocket color fabrics vary from bag to bag
שליח עד הבית (4-8 ימי עסקים) -
33
ש"ח לערים,
36
ש"ח למושב / יישוב / קיבוץ 
למען הסר ספק, רשימת הערים בישראל 
ממש כאן
איסוף עצמי
נקדות איסוף עצמי מהחנות בדיזנגוף סנטר, תל אביב -
 9 ש"ח
ניתן לאסוף מרגע קבלת הודעה על הגעתה לחנות, או לאחר 2 ימי עסקים מיום ביצוע ההזמנה, המוקדם מבניהם. 
בימים א'-ה' בין השעות 11:00-20:00
שלושה חודשים ראשונים מיום הרכישה - אחריות מלאה; תיקון ללא עלות או מוצר חדש
האחריות חלה על פגמים בתפירה / בחומר הגלם, ואינה חלה על פגמים שייגרמו כתוצאה משימוש לקוי במוצר
לאחר שלושה חודשים - אחריות לכל החיים; שירות תיקונים
האחריות אינה חלה על מוצרי חיסול המסומנים במילה 
"OUTLET"
 ניתן לבצע החזרה ולקבל זיכוי כספי 
עד 14 יום
מיום קבלת הפריט
ניתן לבצע החלפה 
עד 14 יום
 ממועד קבלת הפריט
לא ניתן להחליף\להחזיר או להזדכות על
מוצרי חיסול המסומנים במילה 
"OUTLET"


Fair Trade
אם קיבלת את התיק ולא התחברת אליו ניתןלהחליף בתוך 14 יום
100% Vegan
Polymer Composites from Poly (Ethylene-Vinyl-Acetate) for Value-Added textile
Unique
קולקציות קטנות וייחודיות במהדורה מוגבלת